So happy to be able to release a new design today which I have just finished working on and that is of the Geraldton Wax which, as the name suggests, is endemic to Western Australia. It's a beautiful and hardy medium to large shrub bearing either white, pink or purple blooms and aromatic leaves and can grow to a height of 4 metres which, as you can imagine, would look just spectacular when in flower en masse. I can only imagine the fragrance too. This also makes the plant highly attractive to bees and pollinating insects. The petals have a unique circular shape which are separated from each other and quite robu
stly formed.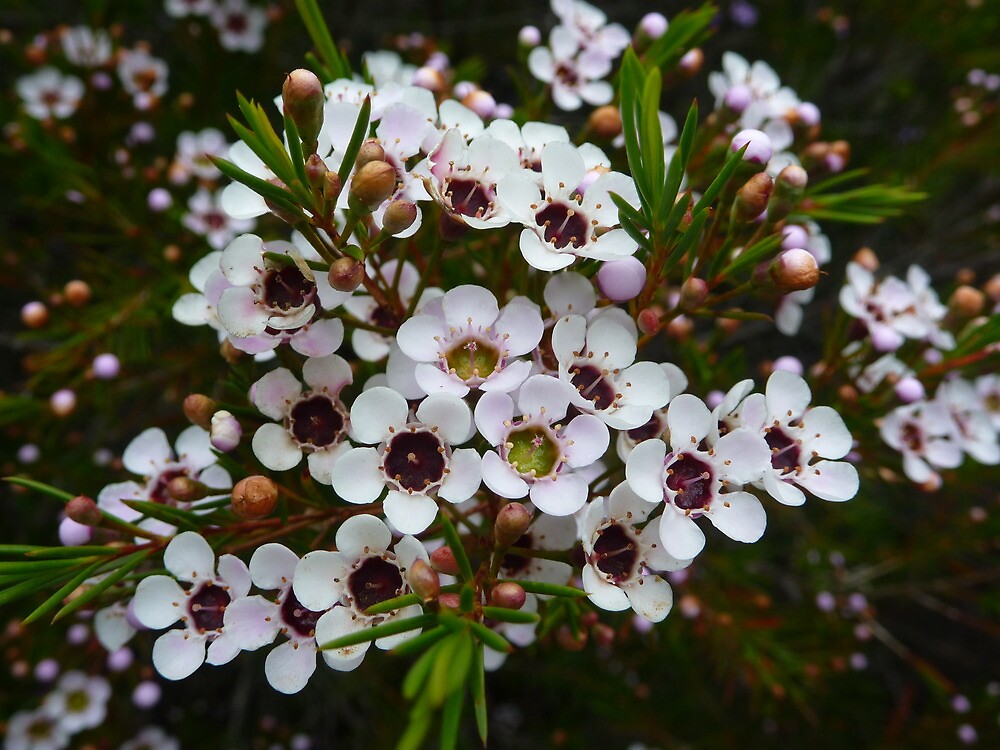 The Geraldton Wax is a well known Australian native flower and extensively used in the cut flower industry for its beauty and longevity. Many years ago when I was doing floral work, Geraldton Wax was pretty much the only standard 'fill-in' flower for arrangements and bridal bouquets - as well as Gypsophilia (Baby's Breath). Sprigs would be used in corsages and buttonholes to complement the bride's and bridesmaid's bouquet. What I do remember most about working with the flower was its rustic and heady fragrance and the almost woody feel of the stem in comparison to other more fragile flowers. Today native flower bridal bouquets are quite popular and with such an array of beautiful native flora on the market, it's great to see the Geraldton Wax has stood the test of time.
My design is 64 x 76mm (2.5 x 3in) in dimension when using 14/inch fabric or 35 x 42 stitches. It uses 8 colours and double strands for the stem and needle-like leaves to give the impression of strength and robustness. Both stem and leaves are stitched using filament threading whereby a single thread of two different shades or colours are threaded in the needle and then stitched together as one. Small french knots for the centre of the flower and larger and thicker french knots for buds complete the design.
As with all my designs, instructions are clearly set out on all kits and charts and available now on my website. In time, this design will be stitched as an item and listed in my Etsy shop. I feel as though the shape of the design could lend itself quite well as a needlebook and look quite pretty on complementary evenweave and contrasting cotton. What a great excuse to buy more fabric!!
'If you love life, life will love you back' - Arthur Rubenstein